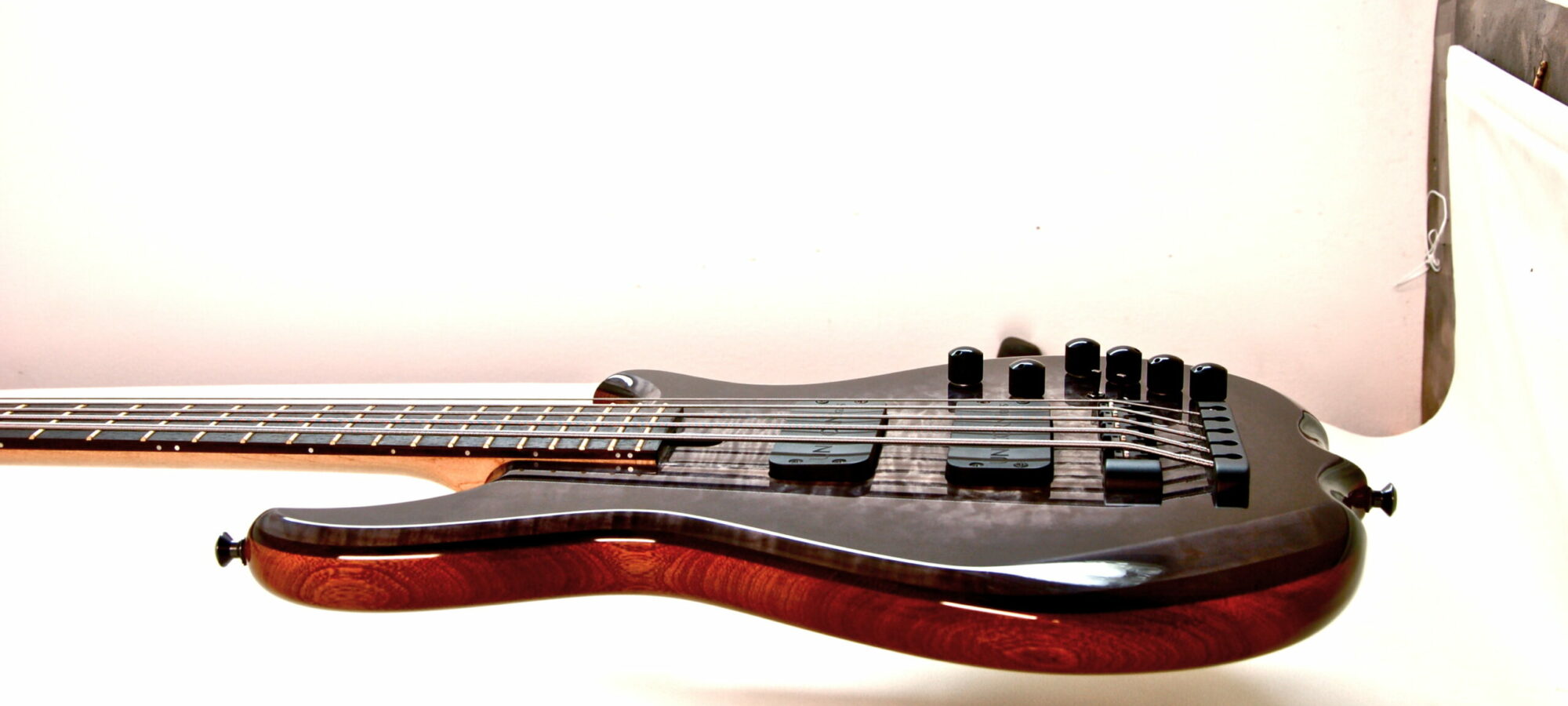 When i set out to make this bass I did not realise that it would be a 10th anniversary bass.. as it grew forth I saw the potential in this bass to be something that is very substantially a bass "to rule them all". Made from the finest materials and with craftmanship second to none it was clearly a very intresting package. Only ten will ever be made exactly like this with numbered signature on the back of the headstock. A rare, fantastic handmade bass indeed.
Based upon the Artist Master bass, this however has a few hidden tricks up its sleeve. Such as chambered body of Khaya mahogany (sapeli mahogany on the prototype), wenge separator and AAAA Quilt maple tinted in a special black burst finish, warmth and big tone without any sacrifice of punch and fast attack is very prominent. The headstock is semi scarfed with rosewood / ebony and maple veneers for great strength and beauty, the neck features a M6 bolt on system that is very tight and sturdy. The frets are of a new material, very hard and much harder that silver nickel frets. The neck itself is a masterpiece of stress-relieved lamination of maple and purpleheart giving a very natural tone to the instrument and very few weak spots. And absolutely no deadspots. The weak spots are barely noticeable either. So as you gather, this is not merely just a "special run" It´s my whole career in Luthiery put into one bass. A bass you can get your hands on… A bass only available in TEN individual numbered basses.
More pictures for download here.
"This bass has it all! Infinite Sound Possibilities before you even begin to adjust the EQ! Responds incredibly well to playing style and dynamics ! The look is bold, yet sophisticated. According to me , it fits any context, using it for everything from folk to metal ! Easy to play ? You bet ! "

"Den här basen har allt! Oändliga Ljudmöjligheter innan man ens börjar skruva på eqn! Svarar otroligt på spelstil och dynamik! Utseendet är kaxigt men ändå sofistikerat. enligt mig passar det in i alla sammanhang använder den själv till allt från folkmusik till metall! Lättspelad ? You bet!"

-Fredrik B.
Scale
32" or 34"
Neck
Maple/purpleheart 7-ply bookmatched. Semi scarfed headstock. Round slim neck profile. 20 mm @ 1st fret
fretboard

___

24 fret macassar ebony. 16″ radius with special alloy frets.
Body
Selected bookmatched centre joinedquartersawn mahogany and bookmatched Quilt Maple with contrast wenge veneer. 350 mm width at lower bout.
Bridge
ETS solid brass 2-piece. Black.
Tuners
Hipshot ultralites. Black.
Pickups
Unicornbass QUAD 10th anniversary custom made.
Preamp
Active Master 4- band. Vol | Bal | Treble | Hi Mid | Lo Mid | Bass |  active/passive switching, Quad sw. x2
Finish
High gloss black burst / black tint
Built on order basis.