Good parking and easy accessability. Free pickup service at Smedstorp station.
Have a espresso, coffee or Tea in our lounge and try a bass while your bass is worked upon.
Thanks to the knowledge of the most intricate anatomy of both basses and guitars through decades of experience of both manufacturing / design and repairs I can offer anything from a fretdress or setup up to a complete overhaul / restomod of your instrument and thanks to a complete fitted workshop no job is too small or big for me. And the quality of the work is on par with the quality of our basses.
I work with customers from all over the world so no matter if you live in LA, Rome, London, Copenhagen (just 50 km from us btw) or even Sweden I take on my clients instruments with the utmost care and detail you deserve.
Fretdress (includes nut inspection and adjustment and checking and rectifying setup and intonation)

Refrets (includes levelling and smooth sanding of the fretboard, glueing in the new frets, slight fret dressing, nut setup, action setup and intonation)

Setups (checking and where applicable, adjusting action, nut and intonation)

Refinishes on hour rate.

Electronics work

Modifications

Fretboard Replacement including fretting, setup and new saddle.

Fretboard Replacement including fretting, setup and new saddle, new truss rod and reinforcements (common Fender job)

Restomods. Your fantasy, my job. Your very first bass upgraded to a real player monster perhaps?
And many more works. Contact me today for a quote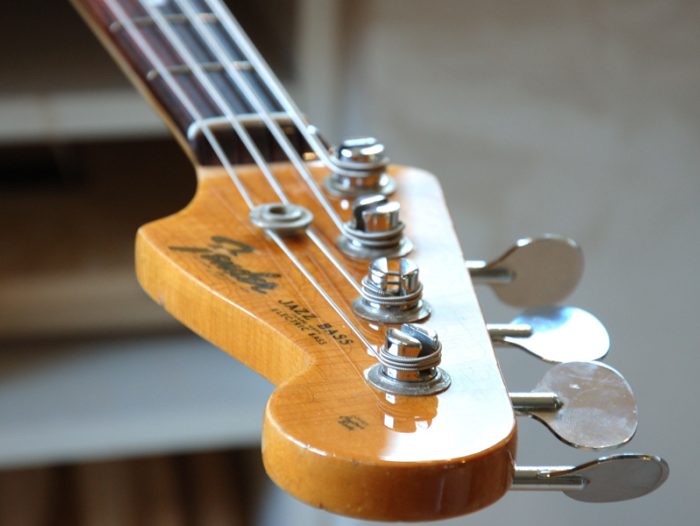 Fender Jazz -66 Neck rebuild
Sometimes when you get a bass in the workshop you instantly know it´s going to be… well not an easy job. This 1966 Jazzbass was a bass like that. The customer, a very nice local guy was not TOO impressed with the guitar workshop in Malmö who refretted the neck and suggested this would help. Well, […]